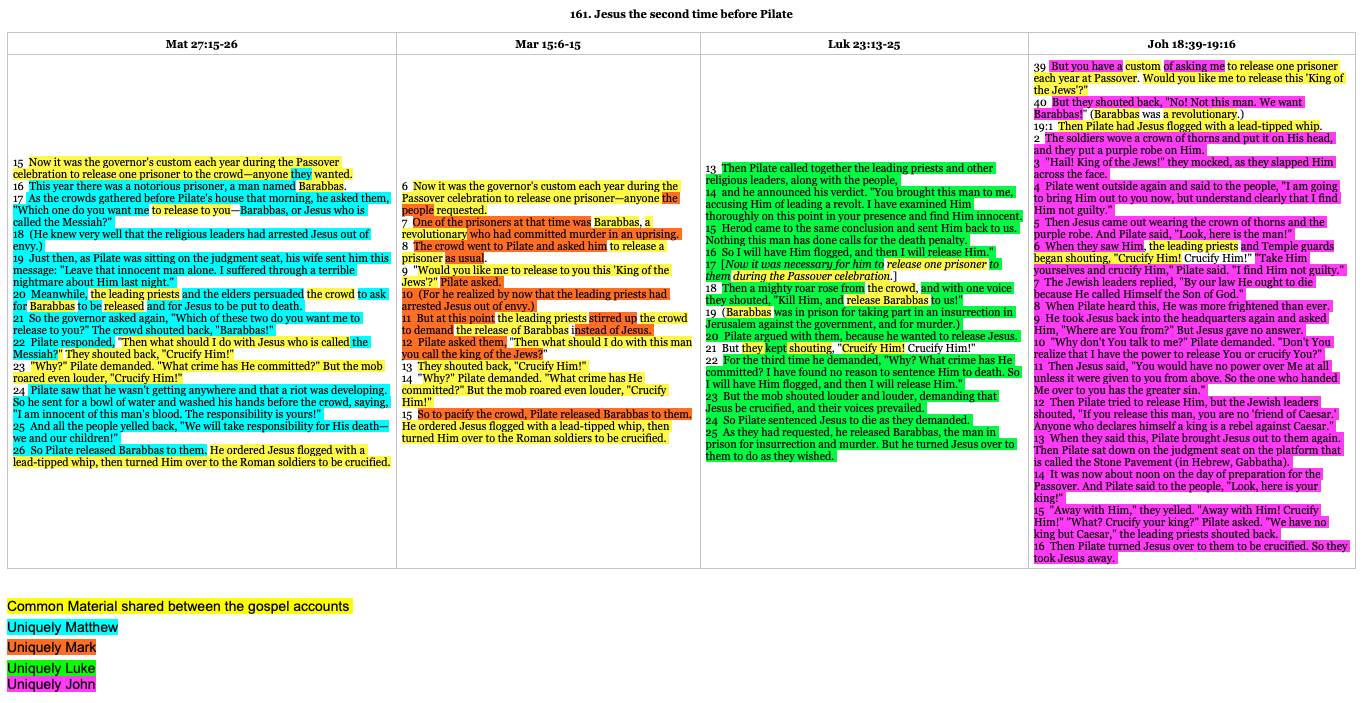 In the last Gems I pointed out how Luke's focus indicates to us that Pilate tried his best to soften the sentence handed out to Jesus. Faced with the angry, persistent Jewish religious leaders, he tried firstly to stack the courtroom with those he felt might be favorable to a lighter sentence. He suggested that they not scourge Jesus to the full extent but at least whip Him to draw a little blood to satisfy the demand for blood from the members of the Sanhedrin. With verse 17 Luke links us back to the passage or the focus used by the other gospel writers – namely the Roman Governor's practice or custom of releasing one prisoner at Passover time. So it would be natural for Pilate to release Jesus on this occasion, especially when he has come to the conclusion that Jesus was innocent of any wrong doing. He was the perfect prisoner to release.
Remember Pilate has also made sure there were members of the crowd in court in an attempt to elicit a favourable response from them. As we have seen, generally the crowd loved Jesus and were favourable toward Him. The Sanhedrin were fearful of the crowd and wanted to arrest Jesus at night because of their fear of the crowd's reaction But in this case we have an entirely opposite reaction from the crowd. What Pilate expected to be a favourable response did not turned out so favourable. Luke has juxtaposed the attempt of Pilate to soften Jesus' sentence in the court with the vehement reaction of the crowd in the next verses.
:18 Then a mighty roar rose from the crowd, and with one voice they shouted, "Kill Him, and release Barabbas to us!"
:20 Pilate argued with them, because he wanted to release Jesus.
:21 But they kept shouting, "Crucify Him! Crucify Him!"
However it appears a curious way in which Luke does this. Luke 17 seems to be out of place. It would be more logical for this verse to be attached to the following bracketed section. That would make more sense. The people cry out for Jesus to be killed and Barabbus released to them. There are many elements to note surrounding this portion – the call for Barabbus to be released and Jesus to die. Barabbus and Jesus are in stark contrast. Take some time to compare them before I move on. Also note the "people" or crowd that Pilate had considered favourable to giving Jesus a lighter lashing and then release HIM as the Governor's released prisoner for this Sabbath react angrily, with one voice, "Kill Him, crucify Him".
What happened here? Compare the Gospel accounts at this point to discover the clues. Luke doesn't tell us. His account is short but punchy. In shortening it he draws the essential elements together. Mark's account is even shorter on this matter. We have to turn to John and to Matthew to piece together what happened. Having told you that I will leave you to analyse the pieces.
Some of you have told me that I give you the answers too soon.
"Ian, give us more time to work through the pieces before you tell us the answer or give us the details."
"I love the way you lead us to discover for ourselves how to dig into the Bible but I wish you would give us more time to do it."
You can see I am stuck between those of you who want more time and those who want me to move faster. Just a few comments on the practicalities of it all here. Just as Pilate found, you can't please all of the people all of the time. I try to strike the right balance between the two. I have always figured those who want to proceed at a slower pace can simply store the Gems and move on at their own pace. The others of you who are using the Gems more as a daily devotional but not a guide for doing your own study could proceed at the pace of a Gem a day. I stopped that practice because many were saying the way the Gems were piling up was discouraging. Others on the other hand have made comments how long it has taken me to work through Luke. It has taken well over over a year to get this far in the Gospel of Luke. Partly because I have scaled back to three Gems a week. (There are some who have suggested Gems being weekly – i.e. one per week.) But also because there is so much in the Gospel of Luke and I am plumbing its depths deeper than what I was at the beginning of Gems. Looking back over past Gems I see how when I started with John I wrote short, sharp Gems, then Gems developed into a fuller approach as a result of the interaction with a number of you and the nature of the material.
I tell you all this to open the curtains on the work behind the Gems. I would like your input. I am wondering about the future of Gems. The pace to go, the depth of comment, the frequency of offerings and the tenure or longevity of the Gems. Do I keep doing them until I die or do I reach a point where it is natural to stop? Yes I could continue with a view to gemming all the books of the Bible but given the track record – I started 09/09/09 and am getting close to completing the 6th biblical book – Luke. So far I have covered:
John Gems 1-130
Romans Gems 131-301
1 Corinthians Gems 302-499
2 Corinthians Gems 500-591
Ephesians Gems 592-725
Luke Gems 726 – 1327
Acts Gems 1328 – 1898
Luke and Acts go together well. But Acts is even longer than Luke. So at the current rate it will take me another 50 years to gem the whole Bible. I can tell you categorically I won't live that long. Despite the fact that many of you want me to live to the maximum God allows for a man's life on earth – 120.
So I am just taking stock of it all in order to make some wise decisions in conjunction with you my readers. Please give me your input.
For now, spend your time looking at events of this second trial before Pilate and why it turns the way it does. In addition to that, why Luke's account of it is so different from the others. And why this rather strange (some would say clumsy, un-Lukan) connection to the Barabbas tradition. My comments on Friday. Holiday on Christmas Day. – when I will do what I told those who heard my sermon yesterday and put John 5:39 into practice . Not meaning that I will read the Scripture and neglect the One who stands behind it. But rather connect with Word while also seeking the One who is the reason for the season.
It being Christmas I will also do what I have done for the last two years and give you these offerings as the quotes for today.
WHY JESUS IS BETTER THAN SANTA CLAUS!
Santa lives at the North Pole. JESUS is everywhere.

Santa rides in a sleigh. JESUS rides on the wind and walks on the water.

Santa comes but once a year. JESUS is our ever present help.

Santa fills your stockings with goodies; JESUS supplies all your needs.

Santa comes down your chimney uninvited; JESUS stands at your door and knocks, and then enters your heart when invited.

You have to wait in line to see Santa; JESUS is as close as the mention of His name.

Santa lets you sit on his lap; JESUS lets you rest in His arms.

Santa says "You better not cry"; JESUS says "Cast all your cares on me for I care for you."

Santa may make you chuckle; JESUS gives you joy that is your strength

While Santa puts gifts under your tree; JESUS became our gift and He died on a tree. The cross!

Santa doesn't know your name, all he can say is "Hi little boy or girl, what's your name?" // JESUS knew our name even before we were born. Not only does He know our name, He knows our address too. He knows our history and future. He even knows how many hairs are on our heads.

All Santa can offer is "HO HO HO"; JESUS offers health, help and "hope."
The FOUR stages of man: He believes in Santa Claus – He doesn't believe in Santa Claus – He is Santa Claus – He looks like Santa Claus

Anon
The essence of Christmas in eight words: "The Word became flesh and tabernacled among us."

John ben Zebedee