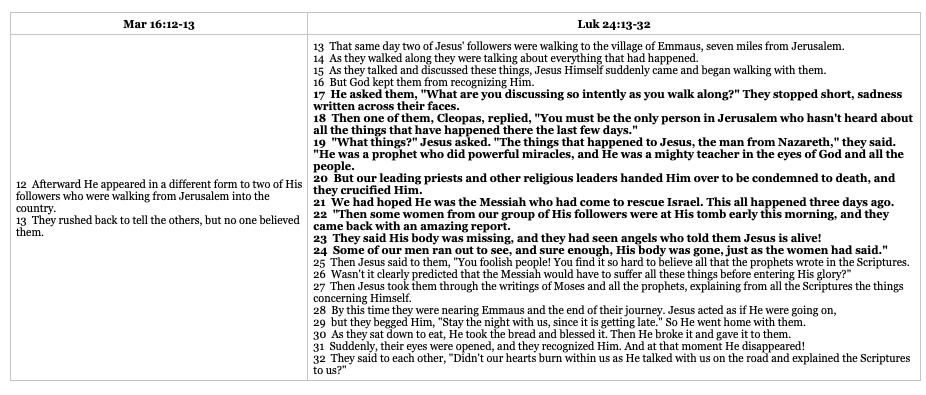 Hearing some of their conversation Jesus asked them what they were discussing so intently? It appears to relate back to the "talking" and "discussing", I.e. the lively discussion was occurring back and forth between them, the "conversing" and "questioning". Clearly there were some were unanswered questions still left hanging. What things? He said, "What words [logoi]?" What was the subject of your conversation? Jesus didn't ask this question in order to seek information. He said it only to draw them into a further conversation so ultimately He could answer their questions. When He asks them the question it seems to bring them to a stand still. "They stopped short, sadness written across their faces." That was enough to halt them in their tracks. But why were they suddenly sad?
[
skuthropos
] – sad, downcast, sullen faced or gloomy. Literally it means with a darkened face. What was it about Jesus' question that made them so emotional and what sort of emotion was it? It is all so curious to say the least.
Why is it that Jesus' question stops them in their tracks and makes them so sullen faced?
The standard options are either:
the sadness reflects their feelings about the events about which they have been talking.
the sadness refers to the shock or the perplexing nature of Jesus question. In which case it is not sadness but more that their faces grew sullen or perplexed that this man didn't know anything of the events about which they spoke.
There is a third option, namely the sadness is included in Jesus' question to them. Note the nature of the King James translation and its derivatives which reads:
(MKJV) And He said to them, What words are these that you have with one another as you walk, and are so sad?
(MSG) He asked, "What's this you're discussing so intently as you walk along?" They just stood there, long-faced, like they had lost their best friend.
And note the contrast between the KJV versions and the Message, with which most other translations agree. In one group of translations the stopping and standing still is separated from the question that Jesus asked them. In other words, His questions caused them to stop and look sad or some such emotion. In the other smaller set of related translations to the KJV the looking sad is part of Jesus' question to them. What is it you are talking about that has caused you to be so sad and dark faced? This makes more sense to me than to think that Jesus question to them about what they were talking about somehow brought their sadness to the surface. I think they were feeling sad and bewildered as it was and Jesus comments on it and questions why it is they are so sad? What has happened to make them so sad.
Some feel they are sad because this man knows nothing of the events surrounding Jesus. They seem in following statement to be incredulous that anyone could be in the city at this time and not know what has been happening in the city. Are you ONLY a visitor to the city? Are you just a visitor to this city and therefore know nothing of what has been going on? But stop and think for a moment. Jerusalem's population swelled at this time of the Passover with many multiplied thousands. Hence at this time of the year many people were visitors to Jerusalem. I don't think that is the essential meaning of the use of [monos] in this case. But [monos] can also have the sense of ALONE. I think it is more ALONE that is in focus here. What is wrong with you? Have you been so cut off from other people that you alone of all the people in Jerusalem don't know what has been happening here? The sense is that everyone is talking the events surrounding Jesus so where have you been that you haven't heard? Are you a hermit? Have you been alone, on your own and out of ear shot that you know nothing of the things that have happened?
This is all so poignant, that Jesus of all people should be drawing from them their interpretation of the event they have just witnessed. This "stranger" is after all the One to whom the events happened. Who better to give them a run down not only of what happened but also why it happened. And Who better to explain how it was that this Jesus has lost His life when they had all their hopes pinned on Him. Little wonder they are saddened because their hopes and dreams wrapped up in Messiah have just gone done the drain. It all seems to be for nothing. Following which Luke gives us a classic summary of two different viewpoints.
Rachel has asked an interesting question: "We noticed that in their description of Jesus, they call him a prophet, but not the Son of God….why? Just another question to ponder! Rach." A good question to ponder as you keep the pot boiling. Why indeed? See what you can make of it all.
Notice in verse 19 Jesus persists in asking the question He had asked before. "What things?" What things exactly? What sort of things are you talking about? He is not letting them off the hook. It is almost as though He is agreeing with their conclusion that He is such a stranger to the Jerusalem and to the events that have happened here that He knows NOTHING. So spell it out for me. Tell me of the things you are talking about. What is your take on the story?
A good exercise for you to do as a Gems reader would be to sit down and write out your account of what happened and why? It will help you to crystallise your thoughts on the events as well.
It does not matter whether you see the glass is half full or half empty. Its the action you take based on your perspective that matters.

Irwan Rosali
To the optimist, the glass is half-full. To the pessimist, the glass is half-empty. To the engineer, the glass is twice as big as it needs to be.

Anon
It doesn't matter if the glass is half full or half empty. What is important is that you have a glass and something in it.

Anon
Wisdom is knowing reality and adjusting yourself to it.

Anon
Most believers think God works when the blessing comes. That's not true! God is working on you and your faith when the blessing is delayed.

T D Jakes