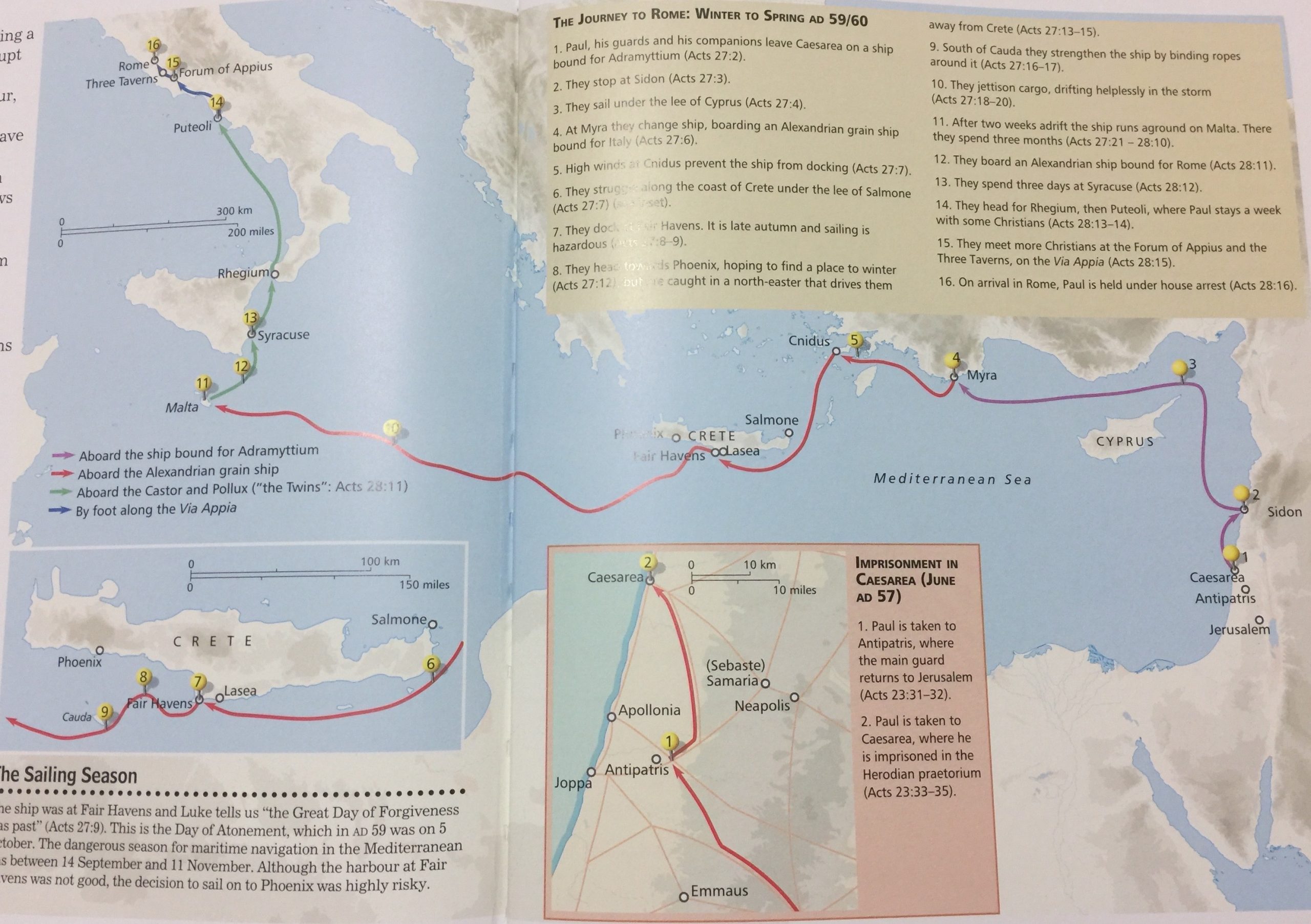 Setting Sail for Rome
It was three months after the shipwreck that we set sail on another ship that had wintered at the island—an Alexandrian ship with the twin gods as its figurehead. Our first stop was Syracuse, where we stayed three days. From there we sailed across to Rhegium. A day later a south wind began blowing, so the following day we sailed up the coast to Puteoli. There we found some believers, who invited us to spend a week with them. And so we came to Rome. The brothers and sisters in Rome had heard we were coming, and they came to meet us at the Forum on the Appian Way. Others joined us at The Three Taverns. When Paul saw them, he was encouraged and thanked God. When we arrived in Rome, Paul was permitted to have his own private lodging, though he was guarded by a soldier.

Acts 28:11-16
Luke has done the same with this part of the journey as he done before. There are times when he has fast forwarded the story. It is clear that other things happened in the places where Luke only gives us a quick summary but we simply must assume that Paul set about doing the same things he usually did. It reminds me of newsletters we have put out in the past where we did not give much detail on some parts. In our minds it was simply more of the same things we usually do. One supporter wrote to us and asked me for detail and when I told him we didn't add the details because we were just doing what we usually do, he said but Ian, your usual is not like anything we are familiar with. You and Tania lead such exciting lives; tell us what you think is your mundane day to day work and it would still inspire us. I am sure it was like that for Paul. Luke has covered a journey of more than three and half months and four stops on the way in just four verses.
Each of the cities they stopped in were significant and my guess is that Paul would have witnessed and preached in every one of them. We know that a church grew in Malta, and Puteoli as a result of Paul's visit. We don't know anything about what happened in Rhegium where Paul stayed just a day; we do know there were believers in Puteoli (Paul's Rotorua) even before he stopped there. They invited him to stay with them for a week and later tradition has it that Paul was responsible for the church there. I don't imagine Paul let any opportunity pass without either being a witness to the people there or strengthening the believers he found there. I am sure that happened in Syracuse where he stayed only three days and in Rhegium where he overnighted before the wind was favourable for them to move on. Paul's heart was preach the gospel, in season and out of season.
The meaning of in season and out of season is based on the Greek word [kairos] which carries the sense of opportunity rather than time. The words Paul uses to Timothy in 2 Tim 4:2 are [eukairos] and [akairos]. The sense is in good times and bad times. Or when opportunities present favourable times and when the opportunities are not favourable. Like the winds of life Paul experienced on the journey. Sometimes on life's journey favourable opportunities don't come easily for sharing the gospel. But if the passion is within us for God and His Gospel, it is quite likely that a word will bubble out of us that will begin a conversation just because our passion and excitement for God is always just beneath the surface. I find it is always like that for me. I am sure it was always like that for Paul too. Paul took every opportunity to talk about the things that God had done for him. He would not have missed an opportunity whether the opportunity presented itself or not. If the conversation didn't naturally come to a point where Paul talked about God, Paul would have likely led the conversation to God because that is who he was. I am sure you can think of people who naturally lead the conversation to talk about the things about which they are passionate without even planning it. It just happens.
One person has asked me how it was that Paul could travel on a ship dedicated to two false Roman and Greek gods. Wouldn't that compromise his faith right there? I don't think so. Images or references to false gods were everywhere in the cities and towns of the day. The images were put on ships in order to encourage the blessing of the god whose image the vessel bore. It is like that in many Asian cities. We have travelled on public vehicles, taxis, pedicabs and others which had images on them to the gods. But I could travel with immunity without worrying that I was somehow compromising my faith. Travelling in a vehicle like that didn't compromise my faith one iota. In fact it sometimes led to opportunities to talk about the gospel. I am sure it was like that for Paul. Read 1 Corinthians 9 to get an idea of what Paul thought about such things.
In fact long ago I had one very funny experience picking up two guys hitchhiking from Milford to Auckland city. I picked them up just out of Milford on the way to Takapuna. I asked them where they were going and they said, "To university in the city". What an opportunity? For them and for me. On the dashboard of my car I had a sticker which read: "Warning! You ride in this car at your own risk. The driver could vanish at any instant."
On seeing the sticker the one in the front started laughing. I asked him what he was laughing about and he indicated my sticker saying, "That's funny."
To which I replied, "Do you know the significance of that sticker?"
"Oh does it have a significance, does it?" he said.
So I proceeded to tell him about the Rapture and the fact that when Jesus comes back for His own, we will be snatched away in an instant. So there will be chaos at the time of the rapture when drivers and pilots etc disappear. Whereupon he looked at his mate in the back and then turned and said, "You can drop us on the next corner mate."
I replied, "I thought you wanted to go over to uni."
He said, "Nah, here on the next corner would be fine thanks."
Either he was worried about the possibility of the Rapture happening during the course of our journey or he was unwilling to travel all the way to Auckland with a religious fanatic.
I freely admit it, I am fan of Jesus and I don't keep my enthusiasm in the attic.
Isn't it interesting that Luke's account of the journey spanning three and half months plus and four cities over four verses is closed with "and so we came to Rome". After all that is where the story was always headed. It didn't come as a surprise to you, did it? I will continue with the journey in the next Gem because there are still some snippets to comment on before we take the final walk in to Rome. That's right we have to walk the last 142 miles. That's right, miles! Not kilometres. In kilometres it will be 228 kms. For those kiwis among you that's like walking from Auckland to Rotorua. According to the map book that journey is exactly 228.1 kms. The book tells us that journey would take 2 hours and 51 minutes BY CAR.
His story is your story because your story is His story. Just simply tell your story; it's His.

Ian Vail
A journey of a thousand miles starts with a single step; a journey of 228 kms starts with the same single step.

Ian Vail
The secret to a fulfilled life is found in enjoying each step along the way.

Ian Vail
Life isn't about waiting for the storm to pass…it's about learning to dance in the rain. (And you can bet we will be rained on from Auckland to Rotorua.)

Ian Vail
Your life is a journey; learn to embrace each experience and suck the marrow out of life along the way.

Ian Vail
Like my Skype by-line says: Don't tell me the sky is the limit when there are footprints on the moon.

Ian Vail