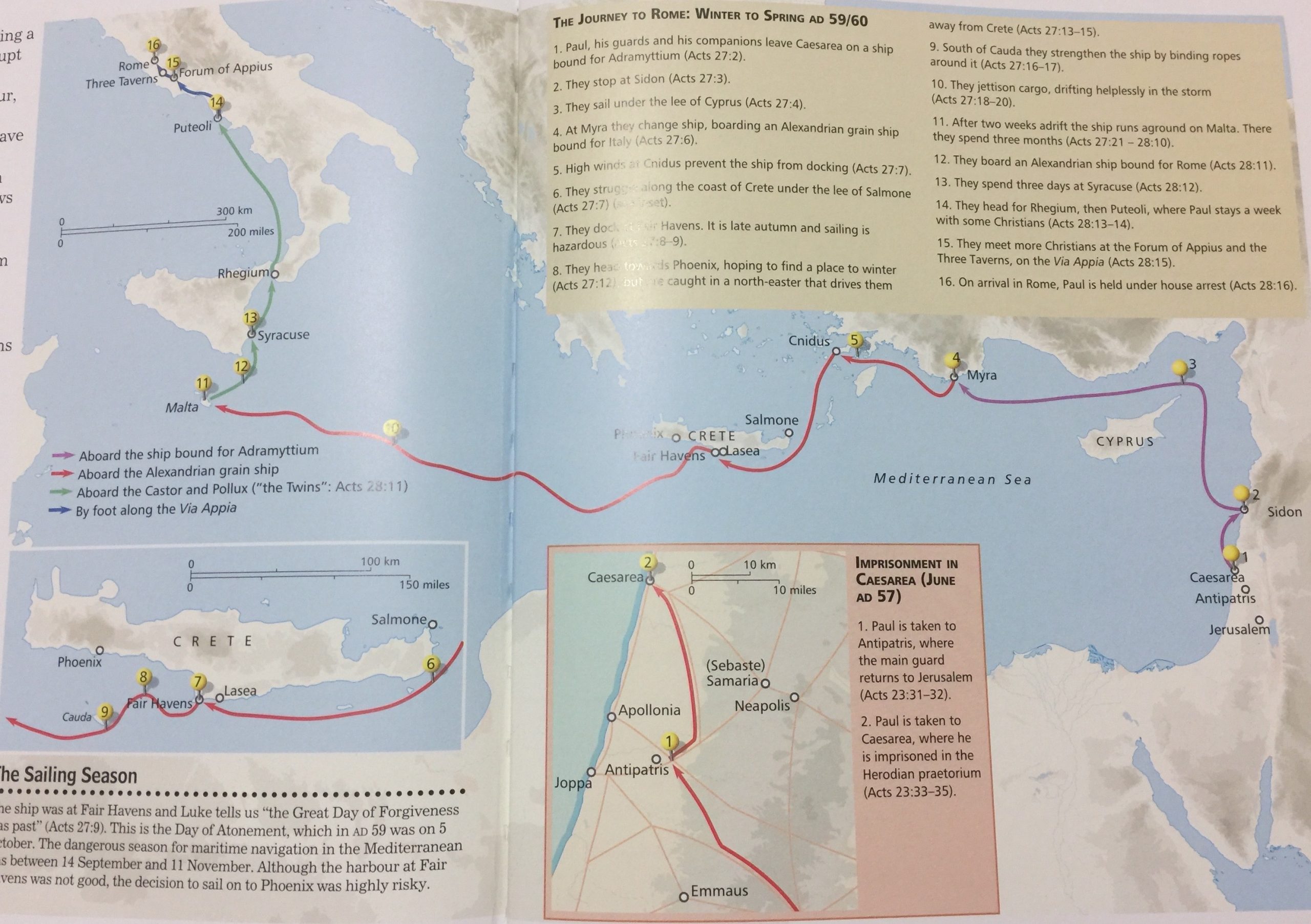 Setting Sail for Rome
It was three months after the shipwreck that we set sail on another ship that had wintered at the island—an Alexandrian ship with the twin gods as its figurehead. Our first stop was Syracuse, where we stayed three days. From there we sailed across to Rhegium. A day later a south wind began blowing, so the following day we sailed up the coast to Puteoli. There we found some believers, who invited us to spend a week with them. And so we came to Rome. The brothers and sisters in Rome had heard we were coming, and they came to meet us at the Forum on the Appian Way. Others joined us at The Three Taverns. When Paul saw them, he was encouraged and thanked God. When we arrived in Rome, Paul was permitted to have his own private lodging, though he was guarded by a soldier.

Acts 28:11-16
I left you with some questions in the last Gem.
Where did those Christians come from?
Simply they were the brothers and sisters in Rome. How is it there were Christians in Rome when Paul had never been there?
Simple, look at Acts 2:10-11a which reads "Phrygia, Pamphylia, Egypt, and the areas of Libya around Cyrene, visitors from Rome (both Jews and converts to Judaism), Cretans, and Arabs."
People did not become Christians solely through a visit from Paul. God is bigger than working through a single man. The word had spread as far as Rome long before Paul arrived there.
Who were these people (the ones who met Paul on the Appian Way)?
Where did they come from?
From Rome! They were some of the believers living in Rome. I gave you a list of their names.
How could I have got that?
Do I have another source behind the Bible that gives me this detail?
No, I simply turned to Romans 16, where Paul listed the names of the brothers and sisters in Rome. It's in your Bible just as it is in mine.
The Christians in Rome included: Priscilla and Aquila, Phoebe, Epenetus, Mary, Andronicus, Junia, Ampliatus, Paul's special friend, Urbanus, and Stachys, Apelles, Aristobulus and his household, Herodion, and the household of Narcissus, Tryphena and Tryphosa, Persis, Rufus, Asyncritus, Phlegon, Hermes, Patrobas, Hermas, and the people from their house church, Philologus, Julia, Nereus and his sister, and Olympas and all the believers who meet together in his house.
Some or all of these came out to greet Paul at the Appian Mall or at the Three Taverns. Which I think will bring up another question in the minds of some of you. Those who like to pull apart the detail and ponder and analyse. What's the question? How can Paul know the names of these people if he has never been to Rome before?
Go back and read Bible Gem 272 where I quoted:
But now I have finished my work in these regions, and after all these long years of waiting, I am eager to visit you. I am planning to go to Spain, and when I do, I will stop off in Rome. And after I have enjoyed your fellowship for a little while, you can provide for my journey. But before I come, I must go to Jerusalem to take a gift to the believers there.

For you see, the believers in Macedonia and Achaia have eagerly taken up an offering for the poor among the believers in Jerusalem. They were glad to do this because they feel they owe a real debt to them. Since the Gentiles received the spiritual blessings of the Good News from the believers in Jerusalem, they feel the least they can do in return is to help them financially. As soon as I have delivered this money and completed this good deed of theirs, I will come to see you on my way to Spain. And I am sure that when I come, Christ will richly bless our time together.

Romans 15:23-29
Paul told the Roman Christians in Chapter 1 that he wanted so much to come and see them:
First of all, I thank my God for all of you (1:8)
I ask that somehow I may at last succeed in coming to you. (1:10).
I long to see you so that I may impart to you some spiritual gift to make you strong (vs 11)
that we may be mutually encouraged by each other's faith (1:12).
I often planned to come to you (but have been prevented from doing so until now) (1:13).
I am so eager to proclaim the gospel to you who live in Rome. (1:15)
Are you getting the idea of how much Paul longed to go to Rome and share with the church there? It is not like Paul had ever been there before and developed strong relationships. But his heart goes out to this body of believers who are hot in their desire to know God and serve Him. Their faith is talked about across the empire, thus Paul wants to go to encourage them. He has never met these people but feels an affinity with them and has planned for a long time to spend some time with them. Why? Their faith appears to be legendary. I am sure that is what draws Paul to them. There are times for a preacher when we speak to a group of people who are animated and enthusiastic that it encourages us too. That is what Paul seems to be saying.
He has got some things to do first. He needs to finish up what he is doing then head to Spain but before he does that he will drop off the gift for the poor in Jerusalem and then head to Spain. He plans to drop in on the Roman believers on his way there. Without ever having met them Paul has a heart for them. There is no problem with that. Many commentators see a problem here and make much of it. I have no difficultly in comprehending it. I have felt those feelings myself for believers I have never met. (See Bible Gem 138)
There is much that lies behind Chapter 16 of Romans. There are major questions which are implicit from chapter 15 and 16, like the series of Amens (Rom 15:33, 16:20 and 16:27). I will not address them in this series of Acts. I will move on.
You may be interested to know that I wrote 24 Gems on the names in the list in Romans 16 as well as dealing in detail with "holy kisses". See Gems 274 to 299
It's impossible to get to know God and not fall in love with Him.

Ian Vail
If you love God then you are commanded to love those who love Him.

Ian Vail
In fact if you love God you ought to love your enemies. Ouch!

Ian Vail
God loves you because of who God is, not because of anything you did or didn't do. Now go and do likewise.

Ian Vail
Live Simply. Give Generously. Love Totally. Care Deeply. Speak Kindly and leave the rest to God.

Ian Vail