Now when Jesus realized that the Pharisees had heard he was making and baptizing more disciples than John— although it was not Jesus who did the baptizing but his disciples—he left Judea and went back to Galilee. Now it was necessary for him to go through Samaria.

John 4:1-4
Jesus was leaving Judea and going north to Galilee again. But he didn't not go the conventional way. The text says "He had to go through Samaria on the way." The normal way the Jews went north or south was to by-pass Samaria. Going north they crossed the Jordan at the Ford of Jericho and made their way north on the Trans-Jordan side of the river. They crossed again at Salim and made their way to Ginae where they turned northward again having negotiated their way past Samaria. They wanted nothing to do with the Samaritans (see John 4:9). Jewish Pharisees used to pray "I thank you God you didn't make me a dog a Samaritan or a woman."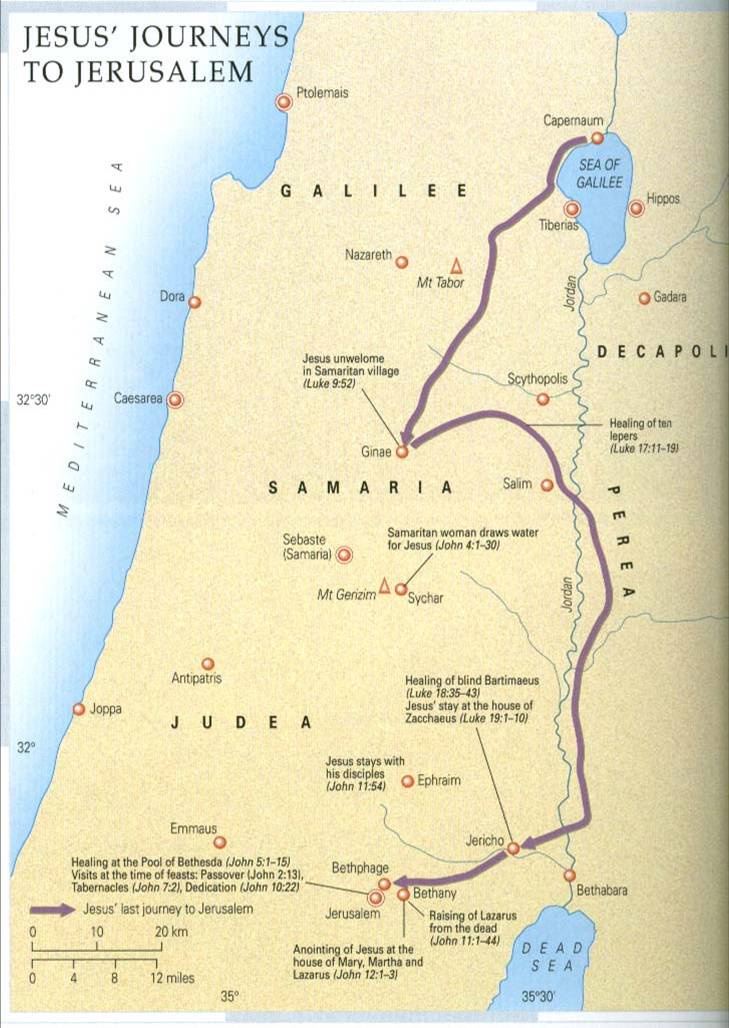 Here in this story we have a two of those unmentionable things – A Samaritan woman. The Samaritans, both in blood and religion, were considered mongrel Jews, the result of those colonies which the king of Assyria planted there after the captivity of the ten tribes. They worshipped the God of Israel only, to whom they erected a temple on Mount Gerizim, in competition with the temple at Jerusalem. There was great enmity between them and the Jews; the Samaritans would not admit Christ, when they saw He was going to Jerusalem (Luke 9:53). When the Jews were in prosperity, the Samaritans claimed kinship to them (Ezra 4:2), but, when the Jews were in distress, they were Medes and Persians. It is necessary to understand the cultural background of the passages we are studying.
Jesus did not respect the historical situation and went right through the centre of Samaria so that He and the 12 disciples ended up in Sychar. Note the proximity of Sychar to Mt Gerazim. Jesus and the woman are looking at Mt Gerazim as they speak about where to worship. See the map.
Question: Is there someone, or some group, you are avoiding?
Bible study tip: learn to use the atlas and find out where the places are that are mentioned in the Bible. It will add volumes to your understanding.

Ian Vail
If every picture is worth a 1000 words; does that mean every map is worth 10,000?

Ian Vail
There's always a lot to be thankful for if you take time to look for it. For example, I am sitting here thinking how nice it is that wrinkles don't hurt.

Ian Vail